"A Marianne's Creative Home 2001"
|
home




SPECIAL FRIENDS..LINKS..ADD YOURS! TOP 50 PLUS!

'Easier to 'see'
Please note: "Orders are taken for the "STRIPED AFGHANS"
'CUSTOM COLORS' YOU CHOOSE.
PRICE? only $ 110.00 plus ship. (I do hand-create these MYSLEF)
( I do purchase all my yarn 'AT RETAIL' STORES AND PRICES'.)
I just 'added' this SPECIAL LINK GEAR! BE MY 'NEW FRIEND ...and you are 'welcome' to JOIN OUR 'CIRCLE OF FRIENDS FROM AROUND THE WORLD! BY ADDING...YOUR LINK HERE!! WE'D LOVE TO MEET YOU!.

Visit the Top 50 "Marianne's Special Friends ..sites!">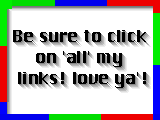 Hugs, Marianne.
OR:
Free Top Ten Search Engine Submission!
This is a 'great' FREE SUBMIT' .......to advertise YOUR Web Site if you have one
Now here are some site you may wish to 'check out' but 'save' me first !!!
enjoy, Hugs, Marianne
and....I sure hope 'You PASS my Site on to all your friends'.
click on my Butterfly......and
It will take you to my 'Creative Korner2' "JEWELRY & BEADS "site !
And 'see' what
Other things I create ! You sure will get lots of 'Ideas' of your own!After you have 'visited' me....Check out Tammy and Ceils site !!

hobbies? I go a 'zillion' of'em ! LOL